The UK is known and lauded for many things but to put it bluntly, its weather tends not to be one of its finest qualities! Thanks to that Northern Atlantic coast we can never quite rely on the weather and endless summer days are pretty much never endless. We love to dissect and moan about the weather but at least one thing that we can be sure of is that a good raincoat is a sound investment to make.
There are several things to consider when you are looking to buy a new raincoat, the first of which is whether or not you want to be wearing it for most of the year. There is a big difference between summer rain and winter storms so do consider that. Another thing is whether or not it has to be fully waterproof as well as wind-proof, or rather will a showerproof jacket do for you (say for example if you live in a city). We've put together some of our favourite raincoats that are available on the market right now and which cost less than £50 too!
What: Topshop white rain mac. £49
Best for: Looking chic in the rain this summer
If you hate the fact that a raincoat will cover up your trendy outfit that you have carefully selected, then why not make your raincoat a key part to your outfit? Raincoats don't always have to look functional but unfashionable as this adorable one from top British brand Topshop proves. The white colour will show off a tan and look great with jeans, dresses, or shorts and the loose somewhat swing style means that you can pull of an almost Audrey Hepburn-esque style whilst you are out in the rain. The rolled striped cuffs and matching hood mean that this is a seriously stylish raincoat to wear out and about this spring.
What: Mountain Warehouse Pakka Waterproof Jacket. £18.99
Best for: Being prepared for unexpected showers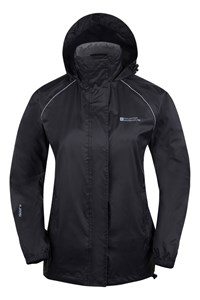 A pack-away raincoat is so useful in the UK and will keep you dry at a pinch should the heavens decide to open up. This coat will keep the worst of the rain off, protecting your hair and outfit from getting soaked, and will then pack into a small convenient bag again once the cloudburst has finished – perfect! This handy raincoat is on sale at Mountain Warehouse at the moment for just £18.99 and is available in 3 colours; black, turquoise and purple.
What: Trespass 3 in 1 waterproof jacket. £29.99
Best for: Staying warm and dry year round
If you want a good all round jacket that you'll be able to use all year round, then this 3 in 1 number from Trespass is the one for you. Available in black or in this fetching sky blue, it features a detachable inner fleece jacket meaning that you can wear this in 3 different ways obviously. With taped seams and a concealed hood, this is wind and waterproof and will keep you dry in summer without overheating, yet warm in winter with the addition of the inner fleece. Again this one is in the sale at the moment and costs just £29.99.