We are slowly but surely creeping towards our summer holidays now and for many of us that means a fantastic break away on a package holiday that features all of life's little luxuries from huge breakfast buffets to vat-like cocktails and of course the hotel pool. Outdoor pools are just one of those luxury treats that we all love, especially when there are endless sun loungers and an accompanying outdoor bar too.
The hotel pool at a sunshine resort can also be somewhat of a fashion parade where many of us like to lounge about whilst still looking great. You don't have to boast perfectly coiffed hair, bronzed make-up or massive heels to look good though. Think laid-back chic when it comes to your poolside look and you'll be sure of creating one that will turn heads whilst still being practical. Read on to find out some of our favourite pieces for the pool this summer.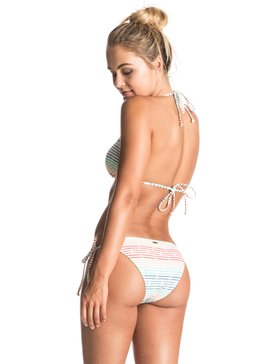 Roxy is a sporty and outdoorsy brand that really specialise in some laidback style that is prefect for the beach or pool, so it is hardly surprising that we have picked one of their bikinis as a style staple for you to sport this summer. Rainbow pastels are a big look in the fashion world this season and combine this with the stripes and you have a winning bikini that you will look great in. Triangle bikini sets are one of those gifts that suit most body shapes and will also ensure that you don't get any super dodgy tan lines since it keeps them to a minimum. Priced at £45, we love this practical yet gorgeous bikini set!
A floaty and light mini summer dress provides you with the perfect cover-up at the pool whilst still looking ready for the restaurant. We love this simplistically elegant one from SoulCal which is is white, flimsy and features a cute little detail along the top. In the flattering baby doll style, it will show off a tan to perfection and will still look good over your bikini. Even better, this dress is a bargain at just £9.99.
The sun is great but it is a good idea to not completely bake yourself – not only is it unsafe but it can also of course cause premature aging so tap into one of this season's biggest summery trends and buy yourself a huge floppy straw hat. You'll feel like a movie star and you sip on your cocktail, and you'll look like one too. We love the open weave on the edge of the brim of this hat, which is a bargain costing just £14 from ASOS!
Pool sliders have been popular on the catwalk for a couple of seasons now, so why not get yourself a pair which are obviously perfect for hanging out at the pool! This gorgeous pair is by Puma and also taps into the army khaki-camouflage trend too. Also available in black, these will have your tootsies looking fabulous when you are poolside.